Welcome to De Anza College!

Below are the classes that I usually teach each year.
Aside from teaching, I recently worked on an exciting project called IMPACT AAPI, a collection of initiatives designed especially to support under-served Asian American and Pacific Islander students in reaching their educational goals at De Anza and beyond. In fall of 2008, De Anza College was one of six colleges/universities in the country awarded a grant from the U.S. Department of Education's new federal grant program: AANAPISI. The aim of the federal grant was to strengthen the college as an institution so that it better serves under-served student populations. IMPACT AAPI was launched with support from the grant.

After a successful three years, the grant ended in Sept 2011. You can check out what we accomplished here...click on the Final Report below: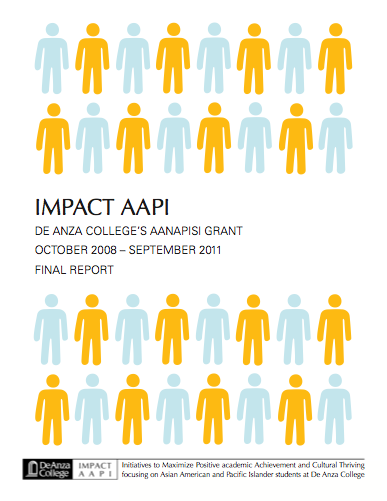 Since then, the great news is that De Anza has been
awarded another AANAPISI grant to continue its work in ensuring student success. This grant award is for five years, 2011-2016. See the award announcement: http://www.ed.gov/news/press-releases/department-awards-395-million-grants-support-institutions-serving-asian-american.


To learn more about IMPACT AAPI 2.0, click here: IMPACT AAPI Web site.

~~~~~~


Classes I teach ...


ICS 4: Race, Ethnicity, and Inequality
(try this if you're interested in issues of social stratification and policy)


ICS 9: Studying Race and Ethnicity: Theories and Methods
(try this is you like to observe and interpret the everyday world around you)

ICS 20: Asian American Experiences in History
(try this if you like to see how the present can be understood through the past)


The

Youth Leadership Academy Program

of the

Asian Pacific American Leadership Institute

(APALI) in the summer. This is an 8 unit, 6 week,
intensive class that introduces you to ideas and practices of leadership, community empowerment, and the local Asian American population. Try this if you want to meet great people, develop your leadership skills, and have a lot of fun all at the same time.
Go to
www.svapali.org
to learn more and register.
I hope to see you in one of the
IMPACT AAPI
programs or in one my ICS classes!
Mae Lee
Intercultural Studies Department
408-864-8973
Intercultural / International Studies Division
Here I am in front of Ebenezer Baptist Church
in Atlanta where Dr. Martin Luther King, Jr.
(as well as his father and grandfather) served as pastor.

~~~~~~~~~~~~~~~~~~~~~~~~~~~~~~~~~~~~~~~~~~~~~~~~~~~~~~~~

For thought...check these out..



In recognition of MLK, Jr....some of his speeches:
Reflections on King's Dreams
, and videos on where we are with racial justice and economic inequality in the U.S.: http://www.pbs.org/moyers/journal/04022010/watch.html and http://www.pbs.org/moyers/journal/04022010/watch2.html
Bill Moyers explores how "winner-take-all" inequality is politically engineered: http://billmoyers.com/segment/jacob-hacker-paul-pierson-on-engineered-inequality/
Bill Moyers on the Occupy Movement and why inequality matters still in the U.S: http://billmoyers.com/segment/bill-moyers-essay-occupying-a-cause/




SF State College Strike, 1968-1969





Reminds me of the Occupy Movement...



"Ching Chong, Chinaman": The De-Americanization of Asian Americans
Disrespecting Undocumented Immigrants